Home
--------------------
Events
----------------------- About us
--------------------
Recordings
--------------------
Photo Archive
--------------------
Video
--------------------
References
--------------------
Contact us
--------------------
Links
------------------------
Join our Mail List
--------------------
Recordings
The first album of Asen&Milena Group "The Middle Ground" was released in June 2011.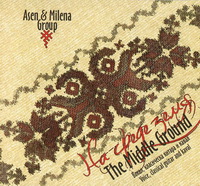 You can hear 4 from the 12 songs in the album here:
Where can you buy the CD?


To buy the CD directly from the band - in/ outside of Sofia and abroad: please send an email to info@asenmilenagroup.com.
Best price and signed (optional)!
Bulgaria only: Buy online using

Stores in Sofia:

> Office of Zig-Zag Holidays, Sofia, 20-V Alexander Stamboliiski Blvd. /entrance from Lavele Str./
> Music store Djukjan Meloman, Sofia, 6 Septemvri str., 7A
> Tea House, Sofia, 11 Benkovski str.
> Music shop of the Union of the Bulgarian Composers, Sofia, Ivan Vazov 2 str. (to the right of National Theatre Ivan Vazov).
> National Art Gallery (KIng's palace) gift shop

Upcoming Events
18.12.2014
Concert of Asen & Milena Group in "Chainata"
24.10.2014
Concert of Asen&Milena Group in Mixtape, Sofia, Bulgaria

19.07.2014
Concert of Asen&Milena Group in Botevgrad, Bulgaria, Chitalishte "Hristo Botev".
-----------------------------